Our first project (history) ::
The CLINIQUE DU BON SECOURS was created in 1983 by Prof. Dr. René Essomba to help improve medical care for the people of Cameroon.
Prof. Essomba's goal was to give every sick person in need access to medical treatment. He was the first Cameroonian specialist surgeon and founded the Cameroon Medical Association.

o realise his project, Prof. Essomba built the CINIQUE DU BON SECOURS with his own funds. Unfortunately, he died suddenly in 1998 without being able to complete his project.

The hospital was closed down. The hospital building visibly decayed.

Dr René Essomba, our partner in Yaoundé
Dr René Essomba is a founding member of our association and has been on the ground in Yaoundé since 2012.
Dr René Essomba studied medicine in Germany. He is a trained specialist in trauma surgery and worked for years as a senior physician in trauma surgery (and acting head physician) at St. Josef Hospital in Adenau. Since the beginning of his medical studies, he had the desire to help the people in Cameroon.
"On a trip home in 2005, I saw a woman who had dislocated her shoulder about 7 months earlier. No doctor had been able to help her. She was in such pain that she could hardly sleep at night and had lost about 35 kg in those 7 months. Even worse was the case of a 70-year-old patient who came from over 50 km away by bush taxi to show me X-ray pictures of her lower leg fracture after a fall about 3 weeks earlier. No doctor had been able to help her, she was only recommended physiotherapy. The leg was swollen twice as much with tension blisters. She told me she still had to carry on with her household."
Dr Essomba decided to go back to Cameroon to complete his father's project.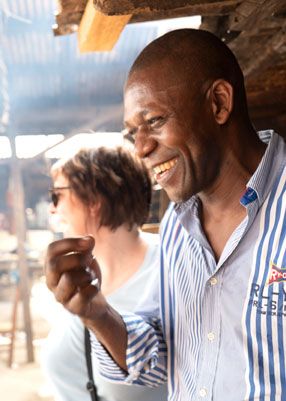 Bon Secours supported Dr. Essomba in this project and furnished the hospital with donations in kind. Medical equipment, furniture and consumables were collected and shipped to Cameroon in containers in 2012 and 2014. Since mid-2013, the hospital has gradually started operating.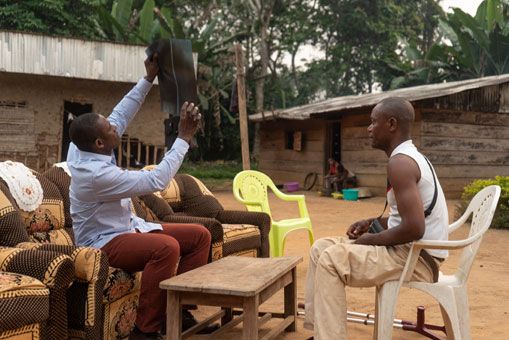 OP campaigns and treatment of destitute patients
Dr Essomba initiates surgery campaigns at the Catholic hospital in Mbalmayo. He has been operating on "pseudo-arthrosis patients" (e.g. caused by poorly healed fractures) for a week every year since 2018.
As a trauma surgeon in the Cameroon Medical Network, he provides expert advice to the doctors of the participating hospitals.