Our first projekt (little historical excursion) :
The CLINIQUE DU BON SECOURS was built up in 1983 by a famous Cameroonian doctor, Prof. Dr. René Essomba.
Prof. Essomba had set a target for himself: he wanted to return the benefits of his brilliant education and skills to the people in Yaoundé, and he wanted to give access to medical treatments to anyone.
At that time, only 35 years ago, he was the first Cameroonian specialist for orthopaedy, and he founded the first Cameroonian Medical Association.
Prof. Essomba built up the CINIQUE DU BON SECOURS without any public money or support. But - just before finishing the project, he surprisingly passed away.
The service of the hospital was shut down before it actually fully started. Only a few rooms were rent, big parts of the buildung started to detoriate.
Our partner in Yaoundé: Dr. René Essomba
Dr. René Essomba, son of Prof. Dr. Essomba, studied medicine in Germany. He is specialist for trauma surgery and he has been working as senior physician at St. Josef Hospital in Adenau/Germany. Since he started university, his idea was to return to Cameroon and to continue his father's plan: to help the people in his home country.

Dr. René Essomba is founder member of Bon Seours Kamerun e.V.
He returned to Yaoundé in 2012 and he has been living in Cameroon since then.
"When I was on a home trip in 2005, I met a woman who had a dislocated shoulder since 7 months. No doctor had been able to help her. She suffered from severe pain and couldn't sleep during the nights. She had lost 35kg weight in these 7 months. Even worse was the case of a 70-year-old patient who came to me from her village, 50km away, to show me the XRAYs of the fracture of her lower leg. Since a fall, 3 weeks ago, no doctor could treat her. Someone had recommended gymnastics to her. Her leg was double size, and she told me that she was still taking care for her house."
Dr. Essomba decided to return to Cameroon, and to complete his father's project.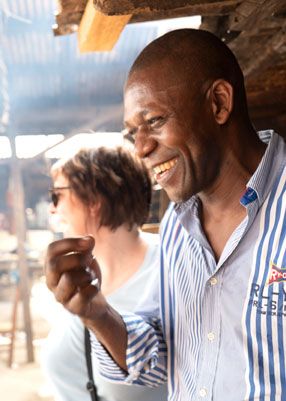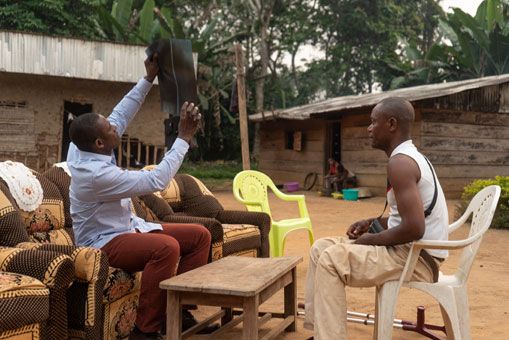 OP-Kampagnen und Behandlung mittelloser Patienten
Dr. Essomba initiiert Operations-Kampagnen im katholischen Krankenhaus in Mbalmayo. Er operiert seit 2018 jedes Jahr eine Woche lang "Pseudo-Arthrose-Patienten" (z.B. entstanden durch schlecht verheilte Brüche): operation/surgery campaigns
Dr. Essomba is consultant for trauma surgery for the doctors and hospitals who are member of the Medical Netzwerk Cameroon.